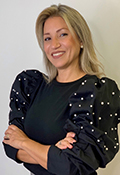 Ana Paula Rocha
anarocha@eliteinternational.com

(754) 207-1999

Realtor Associate
I am Brazilian, I love helping people achieve their dreams and goals. I have extensive experience,a positive attitude, and dedication to customer service which makes me the perfect fit to work in this market.
I have 22 years of retail experience, and pride myself on being friendly, helpful and professional in any situation I encounter. I strive to offer top-notch customer service to every customer I interact with. I love to help people.
In previous roles, my biggest success has been to implement the sea catering in up to 23 continental platforms and buy 70 tons of meat a week. And Manage the purchases in 8 states in Brazil simultaneously with point-to-point deliveries in a large International Meal Company. I participated in companies transitions, synergies between companies, implementations of new systems ( SAP) of purchasing and aligned in different locations. This Company is present in US market with a great food brands . I am extremely driven with skills in team management, planning and control of inventory, and collaboration, great interpersonal relationship with everyone around me. Negotiation is my best point. As a natural self-starter and delicated team player, I consistently perform above expectations. Very experienced in problem solving and decision making, and very focused on results.I believe that my skills and experience, high level of motivation, and positive attitude will serve me well to help many people around the world because this is my main goal.
I am an Associate at Elite International Realty, one of Miami's most exclusive Real Estate companies. Elite is a boutique firm with a history that spans for almost three decades helping its customers make the home buying and selling experience pleasurable and convenient by building relationships based on trust, respect and mutual understanding.