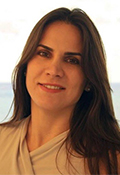 Brenda Friend
brenda@eliteinternational.com

(305) 297-5192

Realtor Associate
Miami is one of the most important financial centers in the world known for its impressive skyline, award-winning beaches and home for innumerous international businesses, conventions, festivals and events.
Owning a Miami estate is an aspiration even among the richest in the world, and I am your professional path to this tropical paradise.
I am an experienced, honest and passionate professional who, through focused attention to my client's needs, have helped several families finding their dream home
I am an Associate at Elite International Realty, one of Miami's most exclusive Real Estate companies. Elite is a boutique firm with a history that spans for almost three decades helping its customers make the home buying and selling experience pleasurable and convenient by building relationships based on trust, respect and mutual understanding.