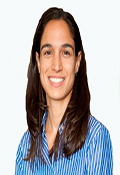 Leticia Leite
leticia@eliteinternational.com

(786) 282-9482

Realtor Associate
With an extensive background in marketing and PR and a Bachelor of Arts in Communication and Commerce from the University of Pennsylvania and an MBA from Fundação Getúlio Vargas (Brazil), Leticia is currently dedicated to her passion, which is Real Estate, as both as an agent and investor affiliated with Elite International Realty.
Throughout her 17+ year career, Leticia worked for large multinationals, such as Visa International, Burson-Marsteller and Organizações Globo, as well as for digital marketing and tech startups, including one of the fastest growing internet companies in Brazil, which she helped to found (in 2010) and grow to more than 25 million users within the company's first 5 years.
Leticia's passion for real estate comes from family history in the field, specifically working with real estate development. She first moved to Miami in 1990 and has since lived in different neighborhoods during different time periods, including Key Biscayne, Brickell, Downtown Miami and Edgewater, having developed a unique understanding and perspective of the region's impressive growth over the years. She currently lives in North Coconut Grove (Bay Heights) with her husband and 2 children and helps clients find their ideal homes or real estate investment opportunities in and around Miami, FL.