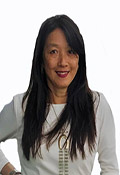 Uiane Lim
lim@eliteinternational.com

(954) 448-1436

Realtor Associate
Relationships rule the day – Lim is very people oriented and likes to get to know her customers and understand their real estate needs. With her friendly and professional style, Lim develops tighter relationships which means quicker time-to-value through effective collaboration.
With a multicultural background, Lim speaks fluent English, Portuguese, Spanish and Mandarin Chinese.
I am an Associate at Elite International Realty, one of Miami's most exclusive Real Estate companies. Elite is a boutique firm with a history that spans for almost three decades helping its customers make the home buying and selling experience pleasurable and convenient by building relationships based on trust, respect and mutual understanding.