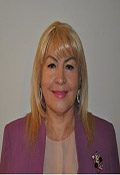 Maria E. Schuler
mschuler@eliteinternational.com

(786) 909-0102 / (718) 673-1861

Realtor Associate
La desición de comprar su casa es una desición muy importante en su vida, lo mismo cuando decida venderla.
El agente de bienes raices que usted escoja jugará un papel fundamental en el éxito de la transacción.
Maria Schuler conoce el negocio de bienes raices en las áreas de Miami Dade y el Condado de  Broward, incluyendo las fascinantes localidades turisticas de Hollywood y Hallandale Beach.
Mi experiencia y trayectoria de 20 años en el mercado inmobiliario de New York,  y ahora en el de Florida; respalda el que no haya duda de que a su lado seré la profesional de bienes raices que mejor cuidará sus objetivos,
e incansablemente trabajaré de manera eficiente, hasta alcanzar sus metas en el campo inmobiliario.
I am an Associate at Elite International Realty, one of Miami's most exclusive Real Estate companies. Elite is a boutique firm with a history that spans for almost three decades helping its customers make the home buying and selling experience pleasurable and convenient by building relationships based on trust, respect and mutual understanding.